A Holiday Message from Harry Harrison, Executive Director
What an incredible year for Helpers Community Inc !  Thank you, friends, colleagues, family, and all of our supporters for making this happen!  We are grateful! 
See below for a snapshot featured on KTVU TV Thanksgiving Weekend,  and  the impact YOU have had!  
 Click on the link below:
Helpers on KTVU
_____________________________________________
Grant Program: Total 2022 Awards: $394,580.00
Fall 2022:
The Fall 2022 Grant Cycle awarded $145,000.00 in total to 4 organizations:
– The Arc SF, SF, CA was provided infrastructure support to renovate 7 upstairs bathrooms.
– Creativity Explored, SF, CA received an award grant to pay for much needed art supplies.
– Monterey Bay Horsemanship and Therapeutic Center, La Selva Beach, CA was awarded grant support for infrastructure renovations to the gym, Art Center, and the purchase of a new tractor.
– Canvas And Clay, Eureka, CA was provided funding for purchase and creation of emergency preparedness training materials & survival backpacks.
The Arc SF
Creativity Explored
Canvas and Clay
Monterey Bay Horsemanship and Therapeutic Center
Spring 2022:
The Spring Grant Cycle funded in total $249,580.00 to 6 organizations.
Award Recipients for the Spring 2022 Grant Cycle were:
– The Pomeroy Center, SF, CA
– Kainos, Red Wood City, CA
– Cedars, Ross, CA
– Common Roots Farm, Santa Cruz, CA
– The San Francisco Disability Business Alliance, SF, CA
– Life Services Alternative, Campbell, CA
Funds impacted individual programs, enhancements, renovations to residence homes, horticulture and therapy immersion programs.
The Helpers Artisan Boutique
The Helpers Artisan Boutique is unique and special in that it features only artists with developmental disabilities' art as well as products from  organizations that align with a similar mission to support individuals with developmental disabilities.
Job Training:
Helpers' Client Program Participants from The Arc SF are being mentored and trained in retail soft and hard skills by Christipher.
Over the past 18 months, he has worked with 7 client program participants 5 of whom have gone on to other jobs or The Arc SF Program Workforce.   Paul A. is currently training, while Irina G has just been hired as Helpers Community's second employee.
Congratulations  Irina G!
As a "Voice for Artists" Helpers Artisan Boutique welcomed new artists' art. NEW artists and organizations featured at the store are:
 Mariana, an artist from Cedars Artist Within
Kelly C., photographer from New Jersey
 Ken M. artist from Santa Cruz, CA
 Kyla H., from Trajectory Ink People, Eureka, CA
 Reuben M, from Trajectory Ink People, Eureka, CA
Justin S. from One Step Beyond, Peoria, AZ
 Malcolm E. from One Step Beyond, Peoria, AZ
 Mehran and Audie, from The Pomeroy Center, SF, CA
Artists from Monterey Bay Horsemanship Therapeutic Ctr,  La Selva Beach, CA
Beloved Bath, Maplewood, New Jersey
And don't forget NEW farm to table products from Common Roots Farm and Big Wave Project.
Helpers Artisan Boutique Events and Pop-Up Shops:
Giving "voice to artists"  Helpers Artisan Boutique featured Meet the Artist Events, Cultivation and Appreciation Events, and collaborated on events in partnership with other organizations: Crafting Our Community with The Arc SF and Able Arts Community Market with Common Roots Farm and Shane Tarkington Art.
The Pomeroy Center Holiday Arts and Crafts Pop-Up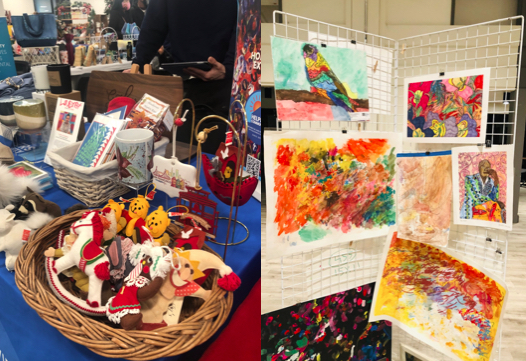 Pop- Up Shops are a great way to build awareness in the
the community about talented artists featured at Helpers Artisan Boutique.
Holiday Pop Up Shops included: The Textile Arts Council Holiday Market, The SFASA Stanford Conference, The San Andreas Regional Center Holiday Market, The Pomeroy Center Holiday Arts and Crafts Show, and Levi Strauss & Co, Shop For Good, Private Event, Holiday Market
L S & Co's Team A.B.L.E (Adapting Beyond Limits & Expectations Members): Yulia Groza, Lindsay Yang, Tyler Harris and Helpers Artisan Boutique's Christipher Morioka,
Marilyn Harrison
Christipher, helping a shopper At Shop For Good
The Helpers Artisan Boutique's Pop Up  Shop at The Textile ArtsCouncil  Holiday Market 11/12/22 was featured in The RichmondReview 12/4/2022!  Read about  HAB's  first pop up at The Textile Arts Council's Seasonal Event and its'  impact on encouraging inclusivenessand involvement of different abilities in the Arts Community as a whole.  
Click Below
to read the article!
"Season's Weavings: de Young Museum Hosts Holiday Textile Bazaar"
None of this would be possible without you!  The people we serve inspire us everyday, and  YOU can enable us to  Enrich a Life by supporting our mission.
Have a Joyful Holiday!
With Gratitude,
Harry Harrison
Executive Director