Past Grant Recipients / Impact
Helpers grants funds to 501c3 organizations that enrich the lives of individuals with developmental disabilities, with first priority being those in the state of California. Helpers will consider requests for funds from organizations in other states when possible.
Helpers Grant support enabled Via Services to completely renovate their oldest camp residence: bunk house, deck, flooring, painting, bathroom, and hall.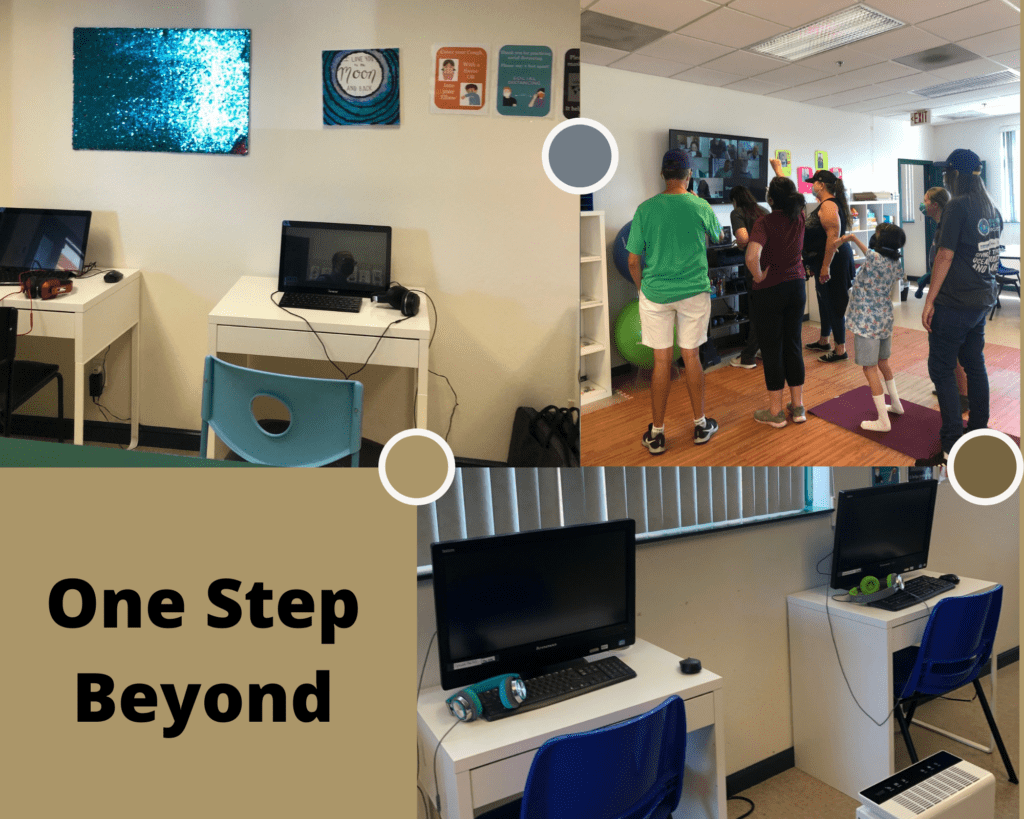 Helpers Community provided a grant to One Step Beyond for their TV Monitor and laptops.
TV Monitor for Group viewing was installed at the One Step Beyond satellite in San Carlos, CA and 16 laptops were provided to clients.  The impact was especially meaningful during the pandemic lockdown as it enabled classes to continue and with a benefit to 60 clients.
Thank You Letter from Cedars
The Arc San Francisco, SF, CA
A grant was provided to the Arc San Francisco in 2019-2020 (with opportunity to apply for 2020-2021) which impacted the Arc's workforce development program and education program for adults with intellectual and developmental disabilities and the ACHIEVE program. The ACHIEVE program: Access to Career Help, Inclusive Employment, Vocational Skills, and Education. This is a multilayered program which encompasses in house and community college continuing education, internships, job shadowing, advanced job placement, and job coaching.
Helper's support did the following:
ACHIEVE: benefitted 300 participants with in-house vocational skills, employability, employment preparedness, social emotional proficiency and digital literacy.  The participants took courses at City College of San Francisco, College of Marin San Mateo, Skyline College, and College of Marin.  In addition some participants completed an Arc Internship at California Academy of Sciences, Intuit, SFPUC, PwC, Deloitte, and the Earn and Learn Model at the Helpers Artisan Boutique. All participants received job search support, resume creation, assistance, job coaching, and 30 participants were placed in new jobs.
Focus on job coaching and use of technology where the Arc developed a new education site called the "Hub" which offered remote learning,  online interactive learning enabling the Arc to continue their in-house courses during the pandemic.
Cedars of Marin, Ross, CA
Helpers Community's grant disbursement to Cedars of Marin enabled the organization to continue the renovation of their Textile Arts Collaborative Building and the HVAC system for the kitchen. Once programs resume safely after COVID -19 Participants will be able to cook healthy lunches and there will be space for the Cedars Senior Program.
The HVAC system impacts 110 individuals and enables installing a piped HVAC system which uses fan coil units reducing the re-circulation of air that forced air systems use, thereby making the space safer against COVID -19's spread.
Common Roots Farm, Santa Cruz, CA
Helpers Community made a generous grant to Common Roots Farm early this year to assist us in constructing a wheelchair accessible perimeter path. The installation was delayed due to Covid-19 however, installation is due to begin soon. Helpers features farm to "bottle" products grown at the farm, transformed into jams, sauces and mixes, we offer at the Helpers Artisan Boutique in San Francisco.
Community Employment Services, San Rafael, CA
Grant approval provided this organization with grassroots support for their programs.
Integrated Community Services, San Rafael, CA
A grant was approved for job and curriculum training and a partnership with this organization and Equator Coffee and a Kiosk. This project is on hold due to pandemic restrictions with a move forward sometime if safe this Spring.
Kainos Home and Training, Redwood City, CA

Residents are enjoying the replacement of residents' roofs provided by a Helpers' grant.
Pomeroy Center for Recreation and Rehabilitation (SF, CA)
A grant was approved to continue the One Center Program, an innovative focus on individual choice where students can choose from a selection of class offerings to develop social, mental and physical skills or the Transition Age Program, an after school program focused on vocational and job skills training for Independent living.
Per the Pomeroy Center's Year End Report December 2020, the One Center successes which Helpers' support provided were: Virtual programming, Zoom classes, disbursal of tablets and laptops and training on usage, Transition Age students returned to onsite services in the summer with social distancing in place. The Women's Group discussion forums were able to continue with focus on health, wellness, fun things to do at home, Zoom classes.
"The generosity of Helpers allowed us to maintain community and bring meaningful interactions and opportunities to learn during a critical time period in which individuals with developmental disabilities have been disproportionately affected and increasingly isolated. Hundreds of individuals with developmental disabilities at the Pomeroy Center continued to increase their knowledge and skills over a year which required constant adaptation.  On behalf of everyone we serve, thank you." Pomeroy Center
United Cerebral Palsy of the North Bay (Gone for Good Facility), Fairfield, CA
Grant approval provided for installing a lift for physically disabled transportation. This project pending COVID Safety.