Another chance to meet artists Harrison Walkowiak and Paul Pulizzano
This weekend, Helpers Artisan Boutique welcomes back two of our featured artists with developmental disabilities as part of our on going Artists In Residence program.
MEET: Harrison Walkowiak
Appearing this Friday, August 2nd from 11:00 am to 3:00 pm
Harrison is a friendly, engaging, highly skilled, and talented artist. He has attended the Pomeroy Center since the beginning of 2018. An accomplished musician who is a virtuoso on the tuba and the sousaphone, he started drawing as a young child, using colored pencils and markers. Harrison has embarked on an increasingly successful artistic journey at the Pomeroy Center in a very short period of time with his amazing drawing ability and uncanny eye for detail. Creations include fantastic, colorful cities produced with ink markers, colored pencils, and watercolor on paper.
MEET: Paul Pulizzano
Appearing this Saturday, August 3rd from 11:00 am to 3:00 pm
Paul Pulizzano (b. 1988) is a San Francisco native who has been producing visual art through various mediums since he was a child. From 2010 to 2019, Pulizzano created portraits of pop culture figures at the Creativity Explored Studio. He has since shifted his focus to jewelry. "Paul's Loom Bands" are brightly colored bracelets consisting of dozens of small rubber bands delicately woven together. His patterns represent his passions in life. Rainbow colored pride or blue, gold, and white Golden State Warriors are some of his most popular pieces. Paul Pulizzano is thrilled to have his loom band bracelets at the Helpers Artisan Boutique.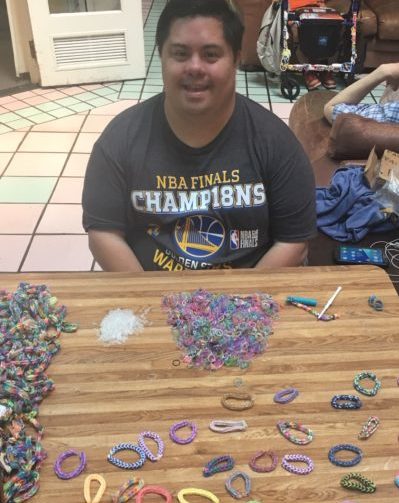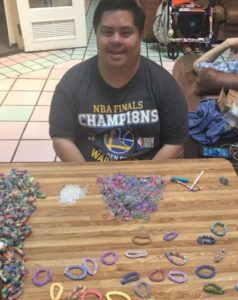 We truly do value your support, your encouragement and commitment towards helping to enrich the lives of Individuals with developmental disabilities.
To contribute to Helpers Community Inc, and our Programs at Helpers Artisan Boutique, please DONATE